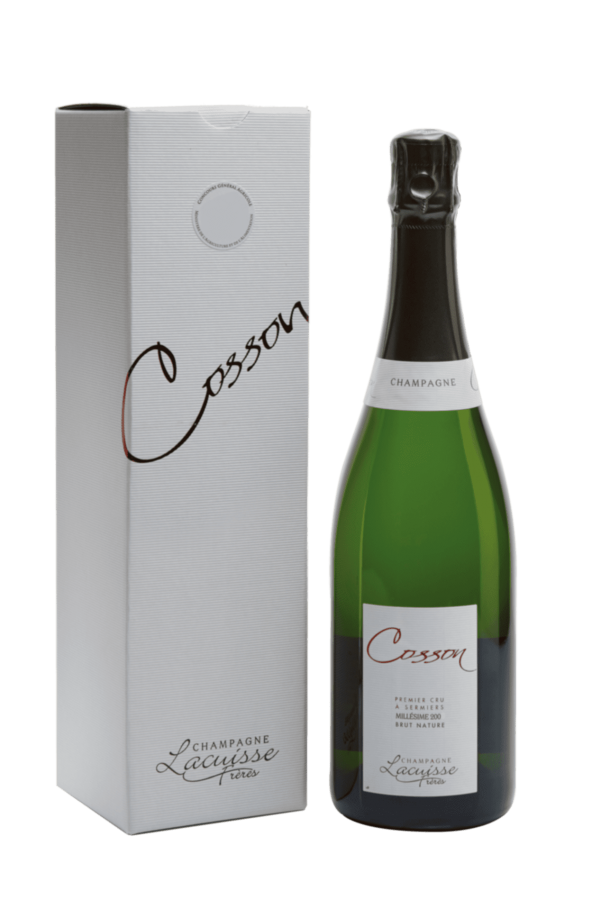 Premium Nature Collection

Cosson Millésime

A great 1er cru Champagne expressing all the finess of Chardonnay, and the strength of Pinot Noir.

Only the best years are set aside for this vintage wine which carries the name of our family estate. It comes exclusively from the Sermiers terroir and, in order to retain all its power, complexity and authenticity, it is not dosed …
Tasting
Colour: Pale yellow gold colour with strong yellow-green hints, quite fluid and satin appearance, fine bubbles and a delicate collerette.
Aroma: Brioche, candied lemon, candied pear, peppermint, dandelion, shelled almond, sea spray, stony chalk, carensac liquorice.
Palate: Supple and fresh attack, creamy and molten effervescence. Pithy and crunchy fruitiness, held up by a lemon acidity well integrated into a chalky minerality, very pure, bringing elegance and extension on the palate. On the finish, streamlined, fresh and minty, deliciously refined.
Mineral type: Chalky.
Pairing
Pairing: Foie gras terrine with crushed hazelnuts roasted in soft almond honey.
Other recommended pairing : Fillet of bass and crayfish catch in a cream of chive sauce